Canadian act Caribou launched their first North American tour in more than five years at the Greek Theatre on Monday night, lighting up the Griffith Park grounds for one last night as the closing performance for the 2021 season. It was a spectacle in sight and sound, helmed by producer/composer Dan Snaith who was joined by a band of three musicians.

The stage set-up was rather simple, Snaith center stage in a white t-shirt with two guitarists and a percussionist (also in white) for the entirety of the evening, silhouetted in blue. Magnificent images floated across the backdrop screen, primarily geometric designs and shapes and pristine tessellations expanding and shrinking as stunning hues of pinks, purples, greens and oranges created a sense of euphoria while the audience grooved and danced in the open air.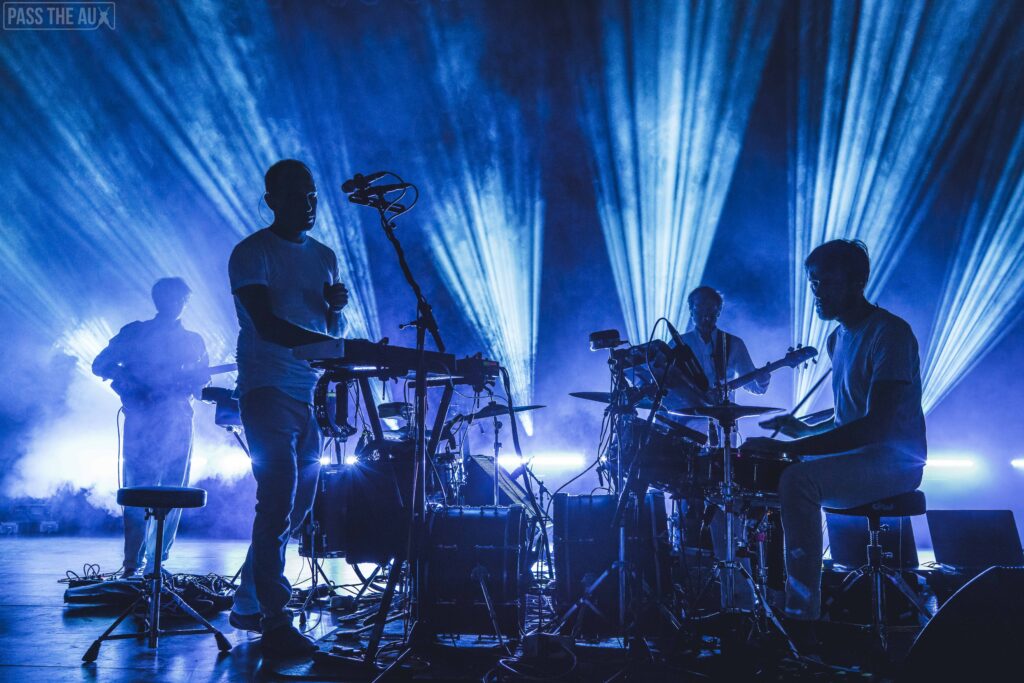 Monday marked the first show Snaith officially played songs from his 2020 LP Suddenly, visiting this newer collection of songs for much of the set including the tripped-out "New Jade", jazzy nu-disco track "Lime", the soulful throwback "Home", the pulsating "Ravi", the rhythmic ballad "Like I Loved You" and the standout mid-tempo "You and I" which featured purple and orange circle enveloping the entire screen.
After the first few tracks Snaith greeted his fans with, "It's so so good to be playing for you again in this beautiful night at this beautiful place with you all".

Caribou played another chunk of songs from 2010 album Swim including the drum & bass-heavy psychedelic track "Odessa" (with Snaith on the recorder) and the uplifting "Sun" as well others from 2015's Our Love with pleasant falsetto that draws you in from Snaith on the title track plus the dreamy "Silver" and the glorious "Bowls".

Inspiring 2021 single "You Can Do It" was full of dynamics and a clear highlight of the performance, by now with most revelers out of their seats, hands in the sky while the pure house track delivered nothing but joy and happiness. The set closed out with the addictive 90s-tinged banger "Never Come Back" while the band jammed under the fog of white strobes and backlights rotating for the duration of the track. For the encore, Caribou's smash "Can't Do Without You" echoed throughout the Greek, as pink and blue strobe lights flashed behind the band.

Caribou with a full band was sincerely a treat. The electronic songs were elevated with moments of folktronica, disco, soul and global sounds from incredible acoustic guitars, imaginative percussion and some funky bass throughout the night. Fellow Canadian producer and artist Jessy Lanza opened (and will continue on the tour through early December) with her trippy, lo-fi ambient, mostly 80s-centric electronica with some seriously seizure-inducing lights.
All photos by Eric Han