Pop singer and guitarist JAWNY is a multi-instrumentalist now based in Los Angeles who you should know about. He played a sold-out show at his adopted hometown at the Roxy Theatre last night to a raucous group of fans and friends, showcasing some new material as well as some of his most addicting songs.
Hand-picking his opening acts for what is really his first major headlining tour, the LA date was treated with the delicious sounds of local band Vanillaroma (upcoming dates include Still Tab and Huron John). But Vanillaroma impressed with lead singer and ukulele player Spencer Ford, who wore a nifty crop top t-shirt and denim jacket along with a trucker hat and a full beard. Their indie-rock sound coupled with a whimsical, folky flair was entertaining to watch, especially lead singer Ford's poetic vibe and quirky stage presence. They delighted the crowd with a cover of Weezer's "Pork and Beans" as well as their own material including the standout "Buzzkill Bummer" with the band going into overdrive in a spirited ending. Also of note, Ford and guitarist Fahey produce and direct many of JAWNY's colorful and offbeat music videos which have gained a lot of attention for their DIY elements during the pandemic.
JAWNY's stage was set like an elementary school carnival/playground with colorful lettering and a familiar, almost Charlie Brown-like feel. There were two fluffy clouds hanging alongside the JAWNY sign, symbolic of the heartbreak on his recent EP The Story of Hugo and the song "Tombstone Grey." There was not a sad face in the house, however, The Roxy was bumpin' from late 90s songs and hit a high note once Taylor Swift's "You Belong To Me" came on the speakers – JAWNY and the band let the song play out almost entirely while getting situated on stage. JAWNY was decked out in trucker chic (or "Tiger King chic" as Interscope Records' Michelle Nemeroff lovingly described), an oversized red sweater and trucker hat. JAWNY said, "make some noise for Vanillaroma" and he mentioned a minor sprain to his angle the previous night from too much fun on stage in Oakland.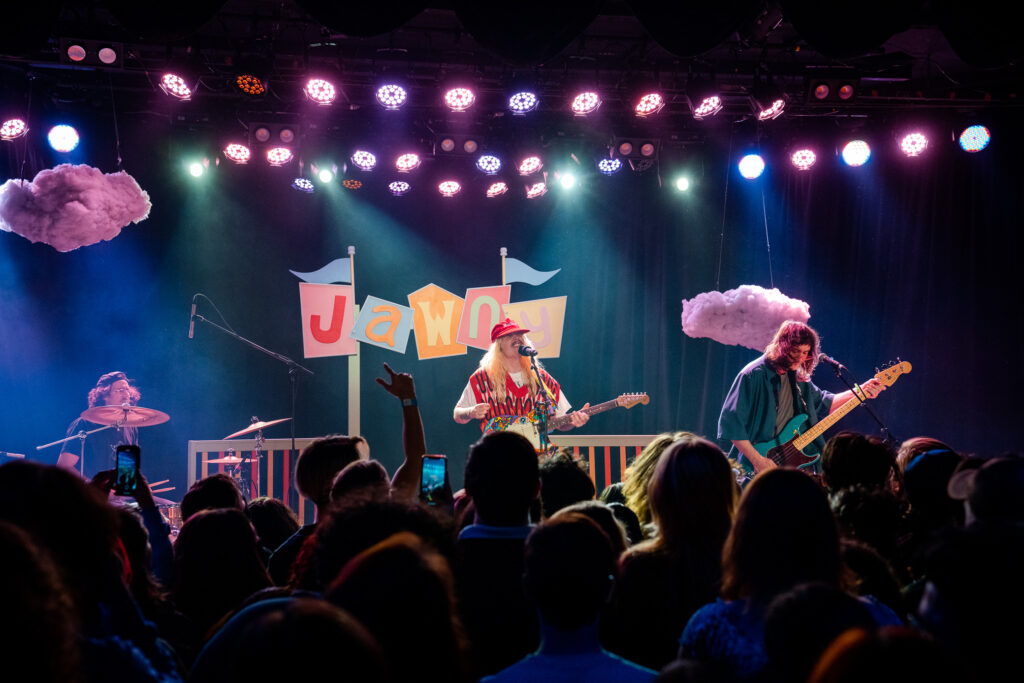 The punk-rock anthem "Take It Back" took over The Roxy for a spirited open – the first of two times the band would grace the fans with their massive song. "Damn, it's hot in here!", JAWNY exclaimed. (We feel you on upholding that snazzy image with the sweater!) "I was here before the pandemic and said 'One day I'm gonna play here and sell out' and here we are."
Without wasting any time, the band smashed it on their biggest hit to date, "Honeypie", which has amassed nearly half-a-million streams worldwide. The danceable track was funky as ever live. JAWNY and his musicians played the groovy ballad "4tounce", impressing the crowd and even taking a moment to lay a kiss on mid-song, amusingly on bass player Sawyer Dust.
JAWNY introduced the next song by stating, "The TikTok kids did their thing" with their "arts and crafts" catapulting the next song "Trigger of Love". On this particular song, you could see JAWNY's confident but not cocky attitude, with standout "ooh-ooh" vocals from Dust and falsetto from JAWNY.
Party starter "Anything You Want" was a total highlight of the night, a pure funk-rock bop with the entire place dancing and hands up. Then JAWNY taught his fans a new unnamed song with his fans which we will endearingly call "The LA Song", with "la-la-la-a, la-la-la-las" in a call-and-response that started with a drum and bass vamp and eventually ended with an a capella with the whole place singing along.
JAWNY warned that older song "Crazy For Your Love" was recorded when he was 20 and he asked the crowd not to make fun of him since his vocal chords have changed. He urged Ford to show off his signature booty shake for the crowd and the song ended with big moments on guitar and the drums.
Another new song about love with "lots of wrestling references" was shared and then the catchy "Can Ya" got the heads bopping while the bass did it's warped out thing that gives the song its special twang. The psychedelic ballad "For Abby" was next followed by another new song JAWNY wrote about fears of death over text with drummer Donny Electric, but he prefaced that "it's not gonna be sad and we can jump around to it".
JAWNY and the guys covered The Killer's "When We Were Young", handing over the lead vocals to bass player Sawyer Dust, smashing it together on the vocals and guitars. It was here that JAWNY's hat finally fell off as he was banging his head, revealing his very blond hair.
Standout ballad "Tombstone Grey" was next, the heartfelt ballad about how he's been feeling, probably during the lockdown with an impressive drum sesion from Donny Electric. By the song's punky ending the crowd was singing along to the moving anthem with their hands in the air.
JAWNY sweetened the night with a bonus version of "Honeypie" and for the encore he rapped and sang as he walked all over the stage for the imaginative jam "Best Thing" handing out the mic like candy to the crowd to sing along. A harder reprise of "Take It Back" made an appearance with the whole place singing and Vanillaroma's Spencer Ford making another appearance crowd surfing while JAWNY aggressively swung his blond hair. 50 Cent's "In Da Club" blasted on the sound system following the show, with everyone amped up, still dancing.
JAWNY plays additional dates throughout North America this month with Spill Tab and Huron John.
Words by Michael Menachem
Photos by Nicole Lemberg