Who is Phoebe fucking Bridgers?
Oh, I'll tell you who the fuck Phoebe Bridgers is. She's one of the biggest singer/song writer, break out stars of recent years. She's the sweetheart of sadness. She's the girl making skeleton onesies all the rage. She's the one who stirred up controversy this year, for smashing her guitar at the end of her SNL performance- cuz, you know heaven forbid a female musician act so barbarically. And she's the one who's melancholy, story like music sold out two shows at the Greek Theatre in record time. And then posted a photo of herself crying over the news of the sold out shows. (Aww) If you don't know who Phoebe Bridgers is by now, well, just know she's a fucking star! And she, and her amazingly talented band, put on one of the most captivating and visually stunning shows I've been to.
The "Reunion Tour" came to an end this past weekend and what better way to wrap up a tour than in your own hometown! Bridgers is one of those rare LA natives and her fans came out in full force to celebrate the Pasadena-bred indie goddess. As we drove up the road to the Greek, if you didn't know better, you'd have thought it was already Halloween by the looks of all the skeletons walking up the hill. But nope, those weren't trick or treaters, those were just some of the many hardcore fans, who love rocking the unofficial, official costumes to show off their devotion. March on Bridgertons!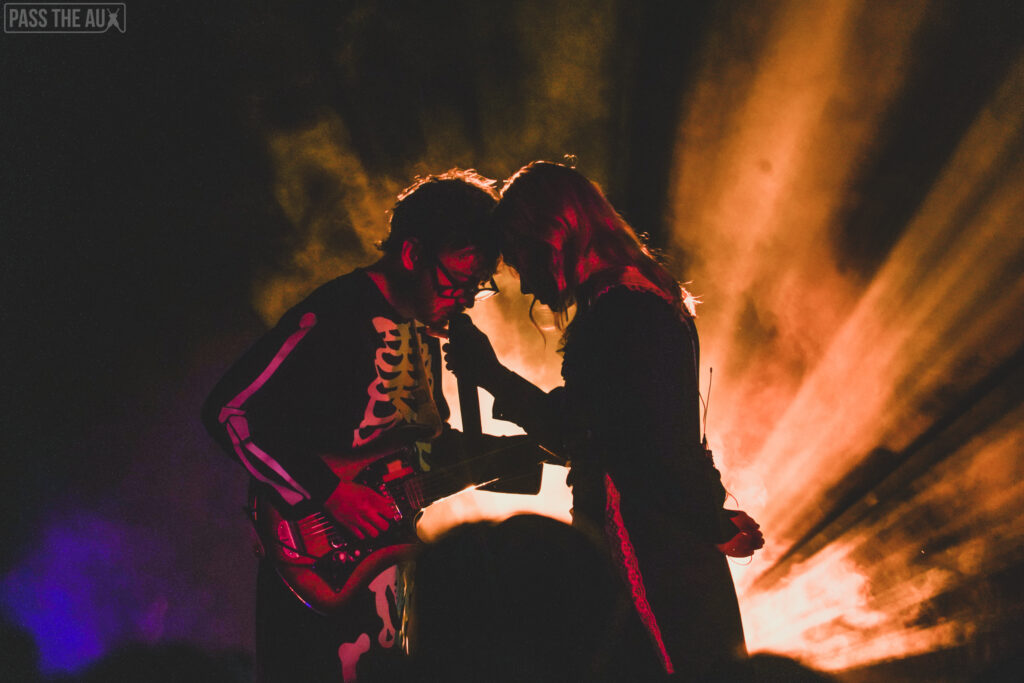 Once inside the Greek, you could feel the excitement and anticipation in the air. Fans waited in the longest merch lines I've ever seen to buy more skeleton swag and all the Phoebe couture they could get their bones on. Though most of Bridgers music is pensive and sorrowful, the crowd was generating the happiest buzz as they waited for the show to begin. During the early days of the pandemic, Bridgers released the highly acclaimed album "Punisher" and this would be the first time most of the audience would be hearing it live, myself included. I had seen Bridgers a handful of times before, but never in this capacity. I'd only seen her perform as an opening act or with one of her many side projects such as Boy Genius and Better Oblivion Community so I was very excited to attend such a defining moment in her burgeoning career.
The night started off with opener Charlie Hickey, who is signed to Bridger's new label Saddest Factory- and indeed, Hickey's music fits the bill. Hickey is also from Pasadena and caught the attention of Bridgers years ago when he covered one of her songs. Impressed by Hickey, Bridgers took him under her wing and the rest is history. The crowd was supportive of the young artist but, of course, completely lost it when after a few songs into the set, Bridgers joined Hickey on stage to help out on harmonies and backing vocals for "No Good At Lying"
and "Ten Feet Tall." It was a sweet moment to see the two share the stage. Phoebe looked like a proud older sister. Hickey was also joined for one song by Katie Gavin of band Muna. For his age, Hickey handled his set like a pro and I can definitely see a bright future heading his way.
The excitement grew to an all time high, as the house lights lowered and the upbeat Black Eyed Pea's pop anthem "I gotta feeling" rung out. The crowd danced and cheered wildly. Oh
yes, we all collectively had that feeling. Hell yea, tonight was absolutely gonna be a good night and that was made evident as soon as Bridgers appeared on stage, smiling and waving at the crowd in a gorgeous, skeleton inspired long gown, her band behind her, all donning the more casual signature skeleton jumpers.
Bridgers wasted no time giving the fans what they wanted and started the set off with the ever so popular tune "Motion Sickness." Seeing the Greek theatre completely full and hearing the the enthusiastic screams and sing alongs honestly gave me chills. Fans were crying, hugging, yelling out "I love you's" non stop. I think I even caught my girlfriend wiping tears away a few times throughout the night. It was total Phoebe mania, and I was there for it all!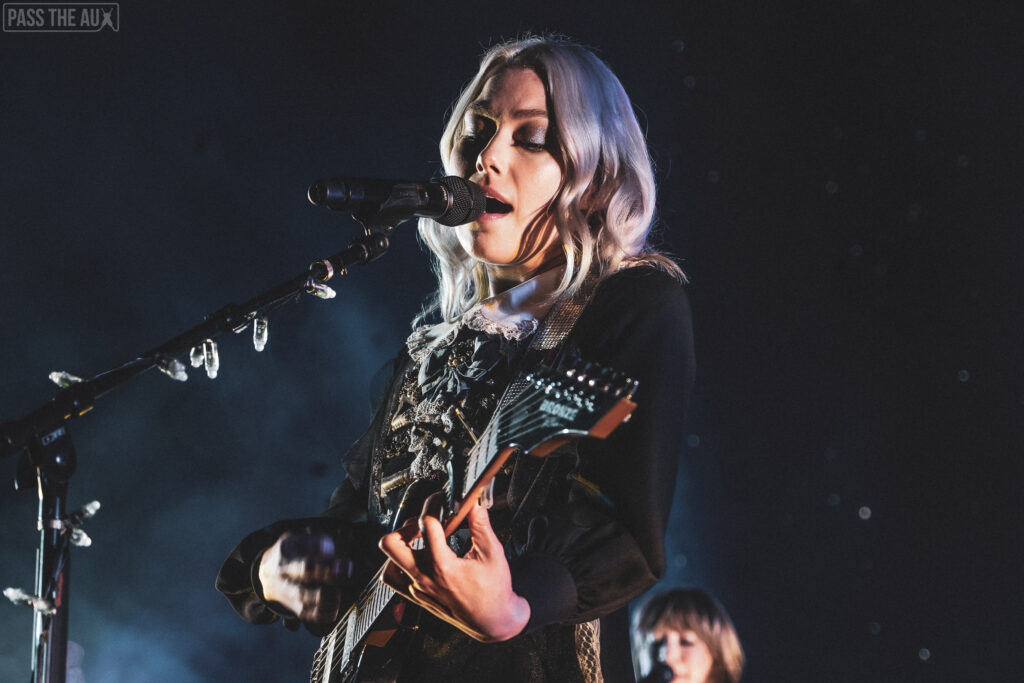 Bridgers focused mostly on songs from Punisher, and played them in album order, with just a few songs from Stranger in The Alps, including Smoke Signals, Scott Street and Funeral thrown in the mix. The whole show played out like a magical bed time story read from a huge pop up book, with stunning visuals for each Punisher track, projected as a backdrop, giving fans even more comprehension to the song's marvelous and often autobiographical lyrics. It was absolutely beautiful and intriguing. Kudos to the designer. Phenomenal job!
Some standout performances were "Kyoto", one of Bridger's few upbeat tracks, that got the crowd jumping and it was especially fun to hear the entire venue scream/singing out the closing line "I'm a liar." (Woah, that's a lot of liars at the Greek!) And can we talk about that two man horn section- they were killing it! The entire band is just ridiculously talented. The graveyard and ghost visuals that accompanied the song Halloween made you feel like you were watching a Tim Burton film and added a hauntingly gorgeous charm to the performance. Bridger's took the stage solo for an acoustic version of her indie super group Boy Genius' song "Me and My Dog". Just Phoebe, her guitar and a dim spotlight made for one of the strongest and enchanting performances of the evening.
In between songs, Bridgers playfully bantered with her band members and the crowd. She's quite funny and charming, and I think the crowd might even enjoy hearing her talk as much as they enjoy hearing her sing. They hung on every word she said. When Bridgers needed some quick technical assistance, she called out for "Mark" who the crowd then took it upon themselves to chant his name enthusiastically while he tuned her guitar and what not. From then on, every time Mark came on stage, the chanting continued. And Bridgers playfully
encouraged it. She also told the crowd that her guitarist Harrison Whitford had new music coming out then jokingly gave herself kudos on the great harmonies she provided. Bridgers introduced the song "ICU" by telling the crowd it was written about her drummer and friend Marshall Vore, and matter of factly stated they used to date then followed quickly by "we broke up" before launching into the song. It's this dry humor of hers that is undeniably endearing. That and her humbleness.
At one point she told the audience how honored she was to be playing at the Greek and remembers going to many concerts there before where she would make her Mom drop her off around the corner so she would look cool. "Thanks Mom," she said to her Mom who was somewhere in the audience. You can only imagine the amount of pride her Mom was feeling in that moment, it was super sweet. Also in attendance was her brother Jackson who was also filming the show. I also heard from someone that before the show she was walking around the venue and saw the line of fans camped out early and started crying in appreciation. It's things
like this I love to hear about artists I love and admire.
The show came to a dramatic end with the apocalyptic final track off the Punisher album "I Know the End". The visuals of course, continued to be on point, with everything going up in flames as Bridgers primally screams her head off. I don't know what it is, but I can't get enough of a good scream in a song, and the shriek at the end of this song is perfection! Hearing it live- goosebumps in the best way! I would've been completely satisfied with the set ending with that song because it's such an epic ending but Bridgers came back for an encore to perform as she puts it "a song I like, but didn't write."
The finale was a cover of comedian/musician Bo Burnham's "That Funny Feeling." As I watched and listened I realized this might've actually been the perfect song to end the tour with. As the lyrics say "Hey, what can you say, we were overdue, but it'll be over soon…" And indeed we were way overdue for the magic of a Phoebe Bridgers show but sadly, all good things come to an end and the show was over- a bit too soon, if you ask me! Until next time!
Words and photos by Betsy Martinez